"Best Remedial Massage In Coolum
Beach For Effective Pain Relief"
Welcome to Beach Front Massage Therapy! We specialise in providing gentle, effective, and result-oriented remedial massage in Coolum. Remedial massage can be used to treat and manage various types of chronic pain such as back pain, neck pain, shoulder pain as well as leg pain.
In this article, we will walk through the benefits of remedial massage and how it can help you achieve optimum health and well-being. Please explore this webpage to learn more about remedial massage therapy.
Monday – Sunday: 9:00 AM to 6:00 PM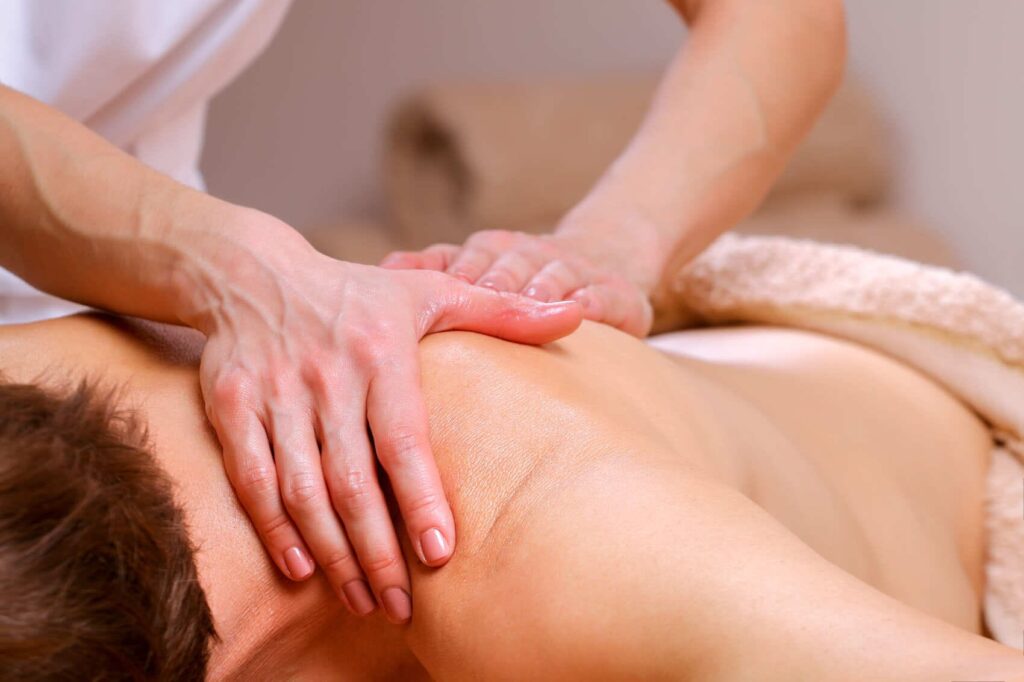 Providing Quality Remedial Massage In Coolum Since 2017
For ages, massage therapy has been used to ease stress and pain. It has been proven to be a treatment that works. Remedial massage is used by not just average citizens but also professional athletes to increase their performance.
What is Remedial Massage?
Remedial massage is a type of massage that focuses on restoring or repairing muscular function and joint mobility. People who are recovering from injury, accidents, surgery or other trauma such as falls benefit from Remedial massage treatment.
It is also used to treat conditions such as arthritis, fibromyalgia, overuse disorders such as carpal tunnel syndrome, headaches or migraines caused by spinal misalignment (subluxation), and nerve pressure.
The advantages of Remedial Massage are many, but the most popular examples include improved blood circulation, stress relief, and mobility.
Remedial massage is intended to reach deeper layers of muscle tissue than conventional Swedish massage. Because remedial massage focuses primarily on the muscles, it is widely used to treat sports injuries, post-surgery recovery, and automobile accident rehabilitation.
It is intended to help patients recover to fairly excellent health following an injury.
Our certified therapists at Beachfront Massage Therapy in Coolum have had a great success treating varity of conditions such as pain, stress and post injury recovery with Remedial Massage.
Book Remedial Massage With Us, We're in Coolum
Remedial massage can be used to treat a variety of muscular and joint problems. Book Now With BeachFront Massage Therapy. Our friendly and fully certified practitioners are ready to welcome you. We have a relaxed atmosphere and comfortable surroundings in our centre. We're open seven days.
Remedial Massage Benefits
Remedial massage has numerous benefits, such a
Remedial massage can be used to treat a variety of muscular and joint problems, including but not limited to:
Awesome Words From Our Customers
Epic massage! One of the best. Will go again for sure.
Tanita Dharmajiva
31/03/2022
Always My go to Massage place when ever I visit the Sunshine Coast
Incredibly happy with my sports massage/deep tissue. Really good value for money, and the massage itself did me wonders. It was very clean and comfortable and the staff are very professional. Will definitely be going back to them again !
Elle Du Plessis
18/03/2022
Tried Beachfront Massage Therapy for the first time and was lucky to get Angie - what a fantastic massage thanks!
Absolute tip tier professions. I went to killens bqq in Houston one time...changed my life. No joke, if I ever travel anywhere NEAR Houston, I'll be doing my best to get there and simply eat at that place then leave. I went to beachfront massage therapy in Coolum one time... No joke, I would do the same with this place if I ever travelled anywhere near Coolum!
Excellent service, clean and without a doubt one of the best massages I've had!! Highly recommend Lucky!!
The owner is an absolute magician her Thai remedial massage is 12/10 ! I didn't know if I was in Thailand or heaven, very gifted and skilled therapist. Will be back to visit
Rachel Pettett
27/12/2021
Amazing! Got a fantastic massage from Angie today and feeling 10/10 now. Already booked again!!